As everyone could see during last challenges, overtaking AND being fast is rather difficult.
As for me, i really wanted to see the results of my work on this theme of traffic detection and i decided to run very very slow (70 % speed).
I wanted to share what i did cause maybe others will do the same, and this would be interesting. We're in a competition, ok, but it's also for fun, isn't it ? :)
So what my code actually does is meshing the image in a portion between the top of the wall until the middle of the image, like this :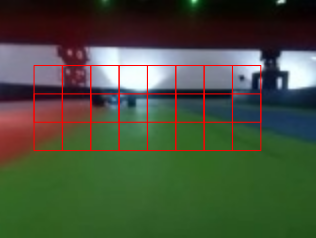 Then i mask the image in black with the cv2 function : cv2.inRange with these thresholds (actually) : boundariesBlack = [([0, 0, 0], [40, 80, 70])]
Then i count all black points in these squares with the cv2.countNonZero function and store them in a numpy array for further statistical treatments.
On the beginning i just computed all of the 4400 Arron images pack (again thanks a lot Arron for that treasure :) and produced a log that i "cooked" :) in excel, trying to tune the statistic rules aiming the minimum of false detections and maximum of positive one, of course.
The weak point is that latency of detection makes it very lately when running, so the overtake move has to be rather slow in order to avoid robots gently... Moreover some inevitable false detections (like spotlights, still haven't found how to get rid of them...) has the effect of engaging this mode and makes the robot slow down for no reason.
Actually i work on another detection mode which aims to detect robots much far than this one, which could be seen as an "emergency one" (can be useful in case you see the robot in front very late, for example just round a turn). This last detection would simply change a bit the current target lane with no effect on speed, in order to reduce the probability of the first one to occur and as a result, to improve time of all laps (hope so ! :))
Hope some others will share their point of view in overtaking capability, image processing tips for this tricky problem (and rather noisy one !).
And also (mostly ?) Hope you all spend good time for Christmas holidays, happy new year in advance to every one :))
Alex (aka Whacky Racer)
Images: